This is a very lengthy topic, ultimately!  Because there are so many great international ballerinas in the 20th century, and balletomanes like me have our favourites, but we also know that there are many others that are just as beloved by you and millions of others.  With that in mind, I'll be eventually writing about many others, where you can see them, both in person and on tape, dvd, and youtube.   But I will start with my Number 1 favourite ballerina, the brilliant Alla Sizova. 
The ballerina I have most come to love after 50 years of living in New York and going to many live performances, is actually in a 1964 movie of The Sleeping Beauty and was produced in the former Soviet Union with stars and members of the great Kirov Ballet.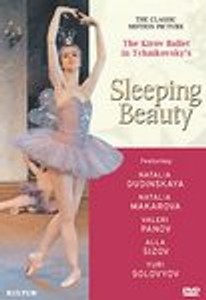 It stars the magnificent Alla Sizova as Princess Aurora, perhaps the most virtuosic of the Kirov ballerinas during the period of the 50s and 60s.  Another great ballerina, Natalia Makarova, who danced in this movie as well–Princess Florine in the Bluebird Divertissement which precedes the marriage of Aurora and Prince Désiré–said of Sizova that, in addition to her prodigious technique and strength and her expressive and musical qualities, that she possessed 'an extraordinary radiance'.  And you can't miss it in this film.
Some remember her primarily for having been Rudolph Nureyev's preferred partner when he became a principal at the Kirov.  The stories were numerous about their difficult relationship when the state and the Kirov Management tried to arrange a marriage for them by making them first share a flat together.  But they were only happy with each other onstage, and Sizova brought in her mother and Nureyev his sister to 'protect them from each other'. 
This film is by far the most important record of Sizova's phenomenal work.  She is not only technically perfect and as musical a ballerina as I have ever seen, but even has the face of a beautiful princess.  It is still on both VHS and DVD, and there are excerpts on YouTube, but the quality is not especially good there.  And the Soviet filming, while a bit old-fashioned, is forgotten when you see this greatest of all ballet companies at its peak.  Only the celestial ballet dancing matters.
Sizova's young work as a ballet student graduation ceremony in Le Corsaire with the young Nureyev, can be seen as well.  It is unfortunate that 'Flying Sizova' has only a few films made of her incomparable work, but Flower Festival of San Genzano, a ballet originally for the Royal Danish Ballet by August Bournonville, can be seen, with Sizova dancing with her second important partner, Yuri Soloviev, who dances Désiré in The Sleeping Beauty film with her .   In the film of Le Corsaire, she does triple pirouettes at Nureyev's suggestion, which no ballerina since has managed
But the best place to see this artist of inimitable power and tenderness is in the 1964 film, and not least, it is the glorious collaboration of Marius Petipa and Piotr Illyich Tchaikovsky, whose music for the Lilac Fairy and even Carabosse, make this the most beautiful of all ballets.  This version I love even more than the live performances I've seen at the Royal Ballet and New York City Ballet.  If you haven't seen her, you simply haven't seen the ultimate Aurora.  I have never seen one who embodies the innocence of Aurora as well as the technically breathtaking jetes and pirouettes and the balances in the 'Rose Adagio' are far and away the best I've ever seen.
Feel free to contact me regarding specialized info, services and products related to this topic as patrick@balletcinema.com